Dandenong Evaporative Cooling Systems
Evaporative Cooling Systems are a premium solution for your home in Dandenong
Too Hot Climate Systems knows that you want an environmentally-friendly cooling system that won't cost you tens of thousands of dollars. This is where evaporative cooling systems come in. For the Melbourne, Bayside, Frankston, and Metro Melbourne areas, an evaporative cooling system is often the most economical and environmentally-friendly option.
Because they use evaporation to cool your home, they require less power and a less complicated installation, making these systems perfect for anyone who wants to cool down their homes without breaking the bank.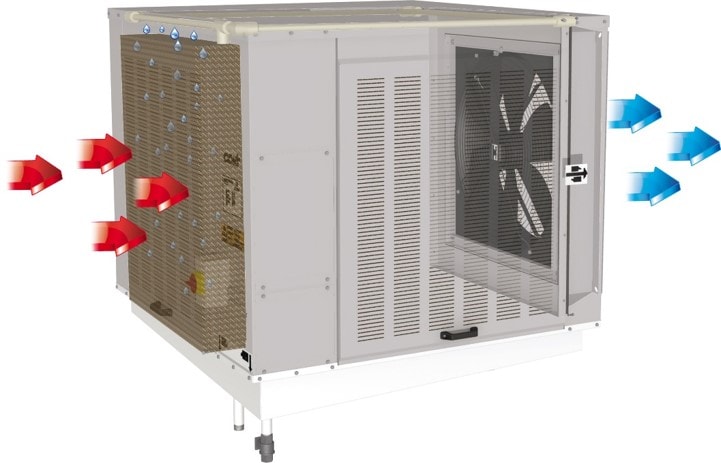 How much does an evaporative cooling system cost?
The cost of any cooling system will largely depend on the size of your home. If you have a relatively small home, your costs could be as low as $3,000. For a very large home, they might be as high as $6,000. Either of these prices, when compared to the cost of other cooling or heating systems, is very low, and because it includes any electrical or plumbing zoning certificates you might need, it is even more cost-effective.
Cost Effective
If you are looking for an air conditioning system, evaporative cooling is going to be your best bet. Not only are they less expensive to install, they are less expensive to maintain and operate. Most people find that a system like this costs between 10 and 25 cents an hour to operate. Even if you run your cooling system all day, every day during the summer, it can cost you less than $30 a month!
If you need greater control of each zone in your home and want an integrated heating system, you might consider a ducted split system for your home.
Reputable Brands
Too Hot Climate Systems works with only the most dependable brands and uses the most advanced and professional installation techniques, so your system will work perfectly for decades to come. To learn more about evaporative cooling systems, to start your installation, or to receive a quote, contact us today!
Benefits of an Evaporative Cooling System
Besides being less expensive than other cooling system options, an evaporative system comes along with a number of benefits, including:
Extremely low cost of operation
Inexpensive installation
Cools the entire home, not just a single room
Brings fresh air into the home
Filters dust, pollutants, and pollen from the air it uses, to help alleviate asthma
Most systems include easy-to-replace filters
Can even help keep a home warm in the winter
Integrated exhaust system to help dissipate smell or musty air
Can be set to only use a fan, to circulate air
How Evaporative Cooling Systems Work
In one of these systems, a large filter is saturated with water. The system then draws warm air from outside the home through the filter, where pollen, pollutants, and dust are trapped, but refreshing air, cooled by the wet filter, passed through, where it is then vented into your home. This is great for anyone who suffers from a respiratory problem or has allergies. In order to ensure the efficacy of your system, the filter should be replaced in at least once every ten years.
And because the air is both cool and humidified, it can help prevent dry skin, nose bleeds, and other issues that come along with hot, dry air in a home. These systems do require a door or window to be open at all times, to ensure adequate air flow. Most systems can replace all of the air in your home in under two minutes, of course, depending on the size of your home. That means your home could be cool and comfortable in less than two minutes!
Warranties and Guarantees
Your warranties will ultimately depend on what brand of system you choose. Too Hot Climate Systems works with only reputable brands that provide great warranties on their systems.
For more information about evaporative cooling systems for Melbourne, Bayside, Frankston, and Metro Melbourne, to get a quote for your home, or start your installation, contact us today!
Reviews from some our our recent clients
"
Really happy with the quality of works and communication for first point of contact right through to last contact, answered all questions promptly.
"
    
Corey Peele
"
Excellent customer service, air con was sized very well. Can't speak highly enough of the experience.
"
    
Greg F
"
All trades were punctual and professional and the customer service was great. We really appreciated the follow up after the work was complete to ensure everything met expectations.
"
    
James Stutt
"
Highly recommend these guys. Sam installed our zoned ducted heating system and went out of his way to ensure everything was set up exactly how we wanted it. His tips to improve airflow and efficiency were greatly appreciated too. I wouldn't hesitate to use them again.
"
    
John Trumbull
"
Sam installed our gas ducted heating system, he was a pleasure to deal with and did a perfect job. I would highly recommend!
"
    
Jordan B
"
All the staff we have encountered have been lovely, efficient and easy to communicate with. Very competitively priced also. Highly recommend these guys!
"
    
Josephine Barnes